Introduction
Stephen Curry is a pro basketball player, venture capitalist, and brand endorser from the United States. Stephen Curry, widely regarded as the best shooter in NBA history, has become something of a phenomenon in the modern game of basketball. His ability to consistently hit extremely long 3-point shots has changed the game. Stephen is one of the greatest players of all time and is considered the best shooter in NBA history.
He is an American professional basketball player who plays for the 'Golden State Warriors' in the National Basketball Association (NBA). Stephen Curry, the first child of Dell Curry, considered one of the best 3-point shooters in NBA history, has been called the best shooter by many players and analysts.
Curry has won the 'NBA Most Valuable Player Award' twice, once unanimously, a first in 'NBA history. Steph led the 'Warriors' to their first championship in four decades while also setting the record for most wins in a single 'NBA' season. He was twice chosen as the "Southern Conference Player of the Year" after setting an all-time scoring mark for Davidson and the "Southern Conference"
During his sophomore year, he also set the 'NCAA' record for most three-pointers made in a season. He is well-known for his shooting abilities, and he holds the 'NBA' record for most three-pointers made in a regular season, which he broke twice. He and his colleague, Klay Thompson, have earned the moniker "Splash Brothers" for their season-high total of three-pointers.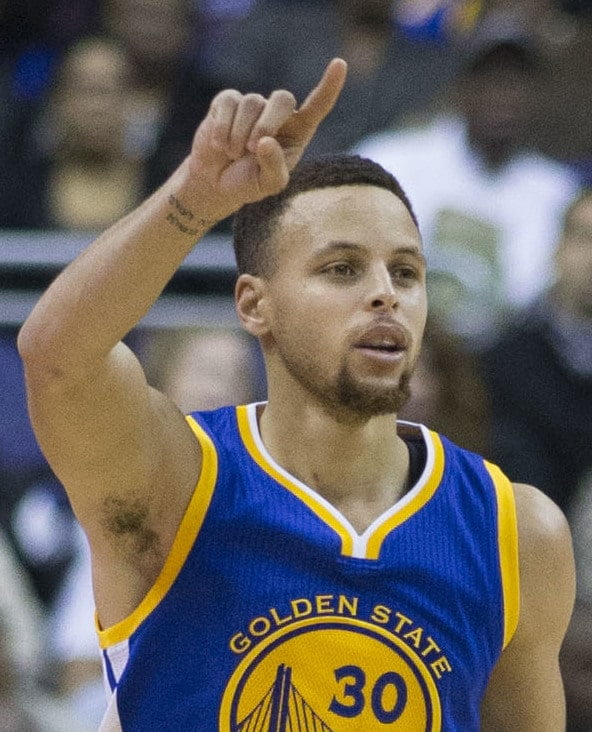 Stephen Curry Early Life
He was born in Akron, Ohio on March 14, 1988. He is the son of Dell Curry and Sonya Adams Curry. His father played basketball professionally and was a member of the Cleveland Cavaliers. He grew up in the area and spent his summers watching his father play in the NBA and college basketball. The couple took their two children to watch games together and took Curry along when he was young. Davidson College was Stephen Curry's first college stop and he went on to become the school's NCAA scoring leader.
The book Stephen Curry Early Life is a biography of the NBA superstar that covers his life and career from a young age. Growing up as the son of an NBA player, Stephen Curry was not expected to be an NBA superstar. He was small and didn't look like NBA material, but he persevered and changed the game. Now, he's one of the most accomplished basketball players in history and has won multiple championships.
Curry attended Davidson College and was a consensus first-team All-American and NCAA all-star during his junior and senior years. After graduating from Davidson, he decided to enter the NBA draft. His rookie contract was worth $12.7 million over four years. As a point guard, he was one of the best scorers in the country and was named the NCAA scoring leader in his final season.
Biography in Brief
| | |
| --- | --- |
| Name: | Stephen Curry |
| Nick Name: | "Chef Curry" "Baby Faced Assassin" |
| Age: | 34 |
| Born: | 14 March 1988 |
| Gender: | Male |
| Height: | 1.88 m (6 ft 2 in) |
| Weight: | 185 lbs / 84 kg |
| Country of Origin: | Charlotte, North Carolina, USA |
| Net Worth/Salary: | $160 Million / 45.78 Million-per year |
| Wife/Girlfriend | Ayesha Curry |
| Relationship Status | Married |
| Kids -3 | Riley, Ryan, and Canon Curry |
| Father | Dell Curry |
| Mother | Soniya Curry |
| Siblings -2 | Sydel (Younger Sister) |
| Social Media | Twiiter – Instagram – Facebook |
Stephen Curry Net Worth
He has an impressive resume – he's been a seven-time NBA All-Star, two-time NBA MVP, and three-time NBA Champion. He's also considered the best three-point shooter in NBA history. The net worth of Stephen is $160 Million. Salary of the Stephen is $50 million per year. He has earned his net worth through his NBA salary and endorsement deals.
Endorsement Income and Salary

Stephen did not have any big endorsement contracts during his first few seasons in the NBA, earning only roughly $3 million per year from the NBA and endorsements. Stephen is now one of the world's highest-paid celebrities.
Between June 2016 and June 2017, Stephen earned approximately $50 million in salary and sponsorships. From June 2017 to June 2018, Stephen earned $76.9 million. Between June 2018 and 2019, Stephen Curry earned $80 million from his various other endeavors.
During his first decade in the NBA, he earned approximately $130 million in salary and another $150 million in endorsements. He has collaborated with companies such as Under Armour, Nike, and TCL's line "Palm" phones. Steph is a major investor in the Palm device and is heavily involved in development and testing.
Contracts
Steph Curry's new contract with the Warriors was announced on July 1st, 2017. At the time, It was the most lucrative deal in NBA history. The $201.2 million, the five-year contract paid him an annual salary of $40 million. With this record-breaking contract, Stephen Curry became the first player to earn more than $40 million a season. Russell Westbrook then signed a five-year, $206.8 million contract, shattering his previous record. Giannis Antetokounmpo agreed to a 5-year, $228.2 million contract extension in December 2020, shattering Russell's previous record.
Steph Curry signed a four-year, $215 million contract agreement with the Warriors on August 4, 2021. The per season salary breaks down as such:
$47.9 million – 2022 – 2023
$51.8 million – 2023 – 2024
$55.8 million – 2024 – 2025
$59.7 million 2025 – 2026
Stephen Curry Career
College Career
He made his collegiate debut versus 'Eastern Michigan' after enrolling at Davidson College. While he only scored 15 points and committed 13 turnovers in the game, he proved his worth in the next game against 'Michigan,' scoring 32 points. He was named the Southern Conference Freshman of the Year after finishing the season as the nation's second-leading scorer, averaging 21.5 points per game.
Stephen followed up his record-breaking freshman season with 122 three-pointers with an even more amazing campaign in 2007-08. He led the Davidson Wildcats to their first NCAA Tournament participation since 1969 and contributed to their 22-game winning streak.
With 34 points in his junior year, he became the all-time leading scorer of the Davidson. On November 18, 2008, he also set a career-high with 44 points against 'Oklahoma.' He eclipsed the previous scoring leader, John Gerdy, in total points that season, becoming the 'NCAA' scoring leader.
Professional Career
Stephen Curry dropped out of Davidson College without finishing his senior year to play in the NBA. He was selected seventh overall by the 'Golden State Warriors' in the 2009 'NBA' draught.
He showed his shooting ability from the start, making a league-record 166 three-pointers as a rookie. However, recurring injuries and playing for a bad club kept him out of the spotlight for the next two seasons.
He fully healed from his ankle sprain throughout the 2012-13 season. As a result of his and teammate Klay Thompson's record combined three-pointers in a season, they were dubbed "The Splash Brothers." Stephen set an 'NBA record with 272 three-pointers during the season.
In February 2014, he made his first 'All-Star appearance for the 'West,' and was later named to his first 'All-NBA Team.' He also surpassed Jason Richardson as the leading three-point shooter for the Warriors. With 286 three-pointers made in a season during the 2014-15 season, he shattered his own league record.
In 2015, he led the Warriors win their first championship since 1975, and he was voted the NBA's 'Most Valuable Player.'
The following season, he helped his club win 24 straight games, for a total of 73 wins, an all-time 'NBA' record. Despite an injury, Curry led the 'Warriors' to their second consecutive 'NBA Finals,' but even his record of 27 three-pointers in a championship match couldn't save the squad. During the 2015-16 season, he broke a number of records, including his own to set a new maximum three-pointer total of 402. He was also the first player in NBA history to be unanimously named as the 'Most Valuable Player.'
In the 2016-17 season, Curry broke multiple three-point 'NBA' records and exceeded 300 three-pointers for the second time in 'NBA' history, finishing with 324 three-pointers. By February 25, 2017, his club had clinched a playoff berth, making them the fastest team in 'NBA' history.
Stephen made his debut for the US National Basketball team at the 2007 FIBA Under-19 World Championship, when he helped the team win a silver medal. Later, as a member of the senior squad, he helped his side win a Gold medal in 2010. His team also went undefeated in the 2014 FIBA Basketball World Cup. In the 2018 'NBA' finals, Steph led the 'Golden State Warriors' to their 3rd championship in four seasons.
Stephen Curry Achievements
Stephen Curry is well-known for his shooting accuracy and for leading the league in three-pointers made in three seasons. He set the record in 2012-13 with 272 three-pointers, then broke it in 2015 and 2016 with 286 and 402 three-pointers, respectively.
In May 2016, Stephen Curry became the first player in 'NBA' history to be selected 'Most Valuable Player' by a unanimous vote. With this accomplishment, he joined the ranks of players who have won the title for two years in a row. Stephen was ranked third in Sports Illustrated's list of the "Top 100 NBA Players of 2019," after only Lurant and LeBron James.
Stephen Curry Interesting Facts
Stephen Curry was born in the same Akron, Ohio hospital as LeBron James in 1988.
He owns the fastest jump shot in Sports Science history.
Curry once shot 77 consecutive three-pointers in practice.
Curry would be a golfer if he wasn't a basketball player.
He wears No. 30 to honor his father.
Last season, Curry broke James Harden's NBA record for most three-pointers made in a month.
The Warriors' star became the fastest player in history to reach 300 3-pointers in a single season. He accomplished this despite having only played 58 games.